Instalooper3 – This glitch effect tool can loop the real time audio to apply time and pitch changes to create effects on your musical creations. Use this looper plugin to create breaks at the end of measures and unstructure the sound, looping it fast to create roll effects. InstaLooper3 is not a traditional loop recorder.
With 6 Integrated FX, reverse and pitch allow to create short loops in seconds and likewise, glitch effects in real time.
InstaLooper3 in not a traditional loop recorder.
For Mac Os X (from 10.12), Mac Os 11, Mac Os 12, Mac Os 13, M1/M2, Mac Os 14, Windows 7, Windows 8, Windows 10, Windows 11, AAX, Audio Unit, VST3, VST2
M1, Apple Silicon compatible.
Read a review from Synthopia here.
Instalooper takes inspiration from many electronic genres like IDM, Breakbeat, Techno, Jungle/Drum n' Bass or even Glitch Hop, and music artists such as Autechre, Aphex Twin, Squarepusher, Venetian Snares, Igorr, or The Glitch Mob.
Click here to watch demos on our Youtube channel.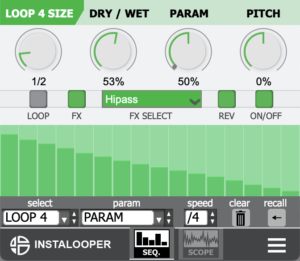 PERFORMERS: MADE TO CONTROL YOUR GLITCH EFFECTS
Draw patterns of modulation in the Sequencer section and assign it to parameters in order to create embedded automations to apply effects on the loop rows. You can then activate the loops to create inventive effects on the sound. Every knob on the interface is automatable to get more controls and make creative glitch effects.